The Radiance Manila Bay
Property Description
The Radiance Manila Bay is composed of two residential towers perfect for those seeking retreat to a relaxing lifestyle amidst the pulsating beat of the metropolis.
The Radiance Manila Bay lets you experience life in smooth flow as you soak in the sun, do your laps in the pool or while away the hours engaged in relaxing activities in one of the relaxing activities in one of the many landscaped gardens.
North Tower Indoor Amenities
Ground Floor

Wi-Fi Reading Lounge
Function Room
Kid's Play Area

6th Level

Fitness & Wellness Center
Semi-Open lounge
South Tower Indoor Amenities
Ground Floor

Wi-Fi Reading Lounge
Function Room
Kid's Play Area
Game Room
Videoke Room
Private Theater

6th Level

Spa/Sauna/Massage Room
Semi-Open lounge
Outdoor Amenities
50-m Lap Pool
Kiddie Pool
Transition Pool
Outdoor Lounge
Arbour Lounge
Sunset Grove and Pavilion
Meditation Exercise Garden
Activity Lawn and Play Area
Pool Deck Lounge
Garden Walk
Flower Garden
Gazebo
Sky Lounge (Roof Deck)
The Radiance Manila Bay is located along historic Roxas Boulevard, -- an address with a glorious past, famous for its sunsets and beautifully-lined coconut trees.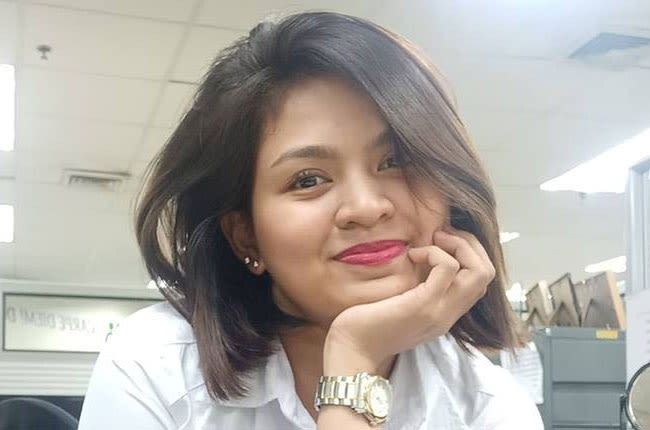 Neckella Empleo
Mobile :
Globe: +639165159674 Smart: +639083992430
We sell affordable and high quality Condo choices in Best Locations: Manila, Makati, BGC, Mandaluyong, Ortigas, Greenhills, and Quezon City.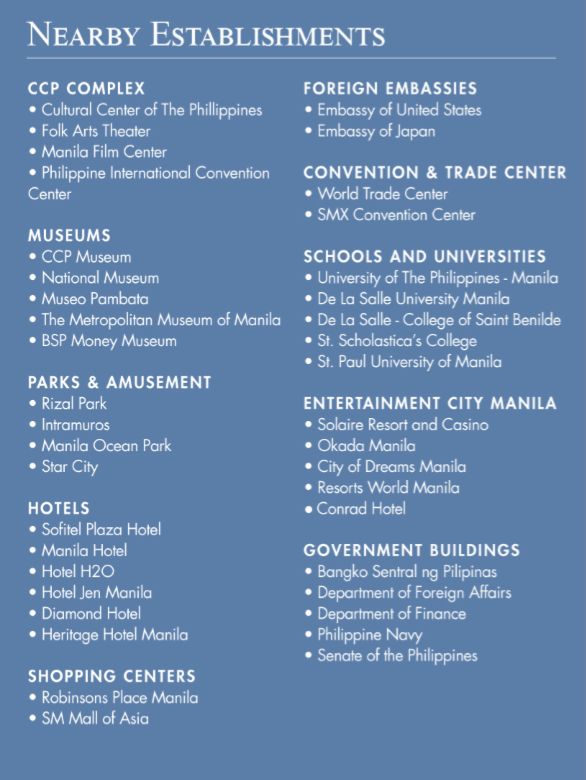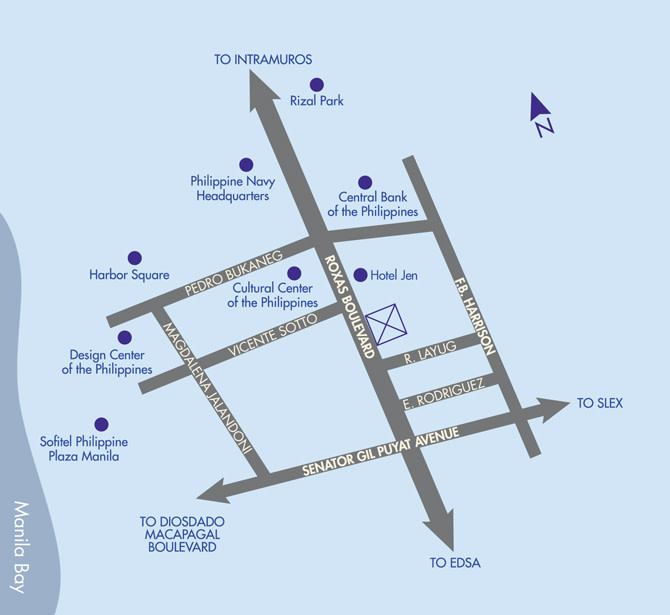 The Radiance Manila Bay promotes a life in balance from its façade design to its interior core.
The principle of green architecture in the over-all building design allows for minimized direct heat inside the units, fresh air intake and natural lighting which make a more comfortable, tranquil home experience.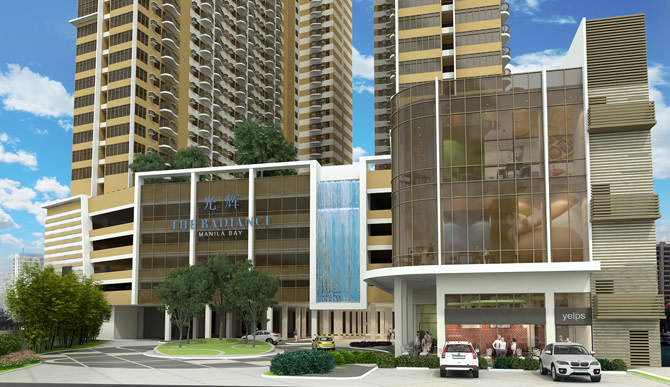 Building Features
Main entrance lobby with reception counter at the Ground Floor
Four (4) elevators (3 passenger elevators and 1 service cum service)
CCTV monitoring at selected common areas
Automatic smoke detectors, fire alarm and sprinkler system at all common areas
Annunciator panel with emergency speaker at selected floors
Water is supplied by an elevated water tank and underground cistern
Standy power generator for all common areas
Individual mail boxes
Garbage holding area per residential floor
Centralized garbage holding room located at the Ground Floor
Building administration office
Security room
Driver's lounge and toilet
Transformer and genset room
Sewage treatment plant
Two (2) fire exits per building with well-lighted signage conforming to Fire Code of the Philippines
Green Initiative
Use of Reflective Glass for windows and balcony doors which minimizes direct heat inside units
Use of Dual Flush System and low water consumption for water closet (Low flush Toilet and Low Flow Shower)
Sun shading devises, such as Ledges, to minimize direct heat inside units
Sewage treatment plant
Fresh air intake at hallways to improve indoor air circulation
Window provision on hallways to provide natural lighting and improve air circulation
Provision of Material Recovery Facility, encourages segregation and recycling
Proper building orientation
Lush landscaping
Use of Low Volatile Organic compound (VOC) contents in materials such as exterior and interior paints
Retreat into quiet splendor complementing your urban lifestyle. Fixtures and furnishings at The Radiance Manila Bay marry practicality and quality in living spaces that invigorate and inspire at every turn.
Unit Features
Entrance panel door with viewer
Intercom per unit connected to the security/reception counter
Automatic smoke detectors and fire alram with sprinkler in all units
Provisions for:

Individual electric and water meter
Cable TV line
Telephone line per unit
Ventilation for kitchen and toilets
Hot water supply line (excluding water heater) for toilet and kitchen
Space provision for a washer/dryer for all units
Window-type air conditioner openings and electrical outlet for all units except units G&H at Zone 1 and units D&E at Zone 2 which will be provided with combination of window-type air condition (bedrooms) and split-type air condition (living/dining)

Standby power at selected outlets in residential unit as follows:

One (1) ceiling light for living area and each bedroom
One (1) convenience outlet for living and dining areas
One (1) convenience outlet for refrigerator
One (1) convenience outlet for each bedroom